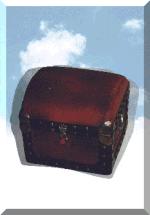 Locked Up Louie is a rare Gemmy item made around 1995, 1996, 1997, or 1998. No one is sure.
How it works
Edit
Inside the chest, there is a vibrating motor that makes the toy vibrate when activated.
Also, Louie can be heard calling for help when the chest vibrates.
How to activate
Edit
There is a motion sensor that activates the vibration.
There's also a lock that acts like a button.
When the lock is pushed, it does the same thing described above.
Gemmy's description
Edit
We do not know how he got in there; we do not know how to get him out! Locked up Louie shakes the chest back and forth and talks while trying to get your attention. He yells: "hey you, yeah you! He, he help me out of here! He!" Locked up Louie comes with the "try me" function, just push the lock on the chest or simply clap your hands to activated when the on/off switch is in the on position. After Louie screams for help, he is quiet until the next person awakens him.